News
Hon'ble State Minister for Agriculture & Farmers Welfare, Shri Kailash Choudhary ji visited KVK, Nagaur-I on 20.10.2019
Hon'ble State Minister for Agriculture & Farmers Welfare Shri Kailash Choudhary ji visited KVK, Nagaur-I on 20.10.2019. He addressed the gathering of innovative farmers, KVK staff and staff of College of Agriculture, Nagaur. He emphasized upon promotion and formation of Farmer Producer Organizations (FPOs) for providing marketing platform to each category of farmers for enhancing income of farmers. He urged for development and promotion of organic farming technologies amongst farmers and also highlighted application and use of bio-decomposer for proper utilization of waste materials in the form of organic manner. Hon'ble Minister visited at sites of different demonstration units including storage godown constructed under National Food Security Mission.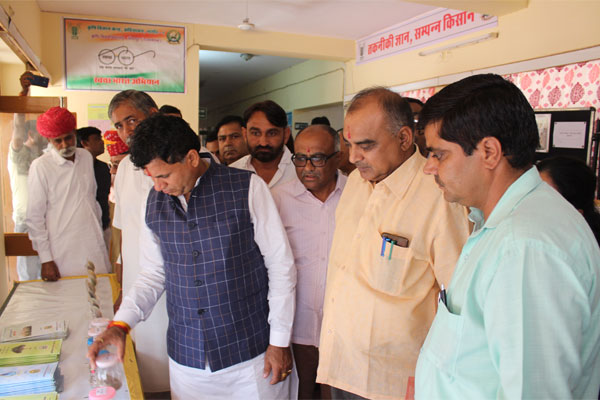 Dr. B. R. Choudhary, Hon'ble Vice-Chancellor, Agriculture University, Jodhpur briefed about progress under research and development. He also demanded for establishment of AICRP Centres of Bajra, Cumin, Greengram & Til under jurisdiction area of AU, Jodhpur.
Dr. S. K. Singh, Director, ICAR-ATARI, Jodhpur appraised upon various programmes and schemes are being implemented in participatory mode for benefit of farming community. He also highlighted benefits of "Creation of Pulses Seed Hubs" in reference to timely availability of seeds of farmers' preferred varieties within as well as nearby districts since 2016-17.
Dr. Ishwar Singh, Director of Extension Education, AU, Jodhpur briefed upon performance of KVKs working under jurisdiction of AU, Jodhpur. Literature developed by KVKs were distributed amongst farmers. More than 200 participants took part.
Source : ICAR-ATARI, Jodhpur